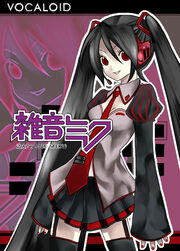 Miku Zatsune is Miku's "dark side" with a red theme instead of teal. She is said to be a daring or sexy version of Miku (sometimes as evil too), and is said to sing songs with sexual content.
In Japan, she was depicted as a parody character, an evil Miku.
Voice configuration
Edit
Her voice is basically Miku's but lower pitched, but TreylolzXD came up with a voice configuration for her in the Vocaloid software.screms
VOICE CONFIGURATION
BREATHINESS (BRE)
-5
BRIGHTNESS (BRI)
10
CLEARNESS (CLE)
25
GENDER FACTOR (GEN)
14
OPENING (OPE)
20
SPECIAL NOTES:

In line with the theme of being risque, she works best with Miku Sweet append, and some portamento, for the swooning effect.