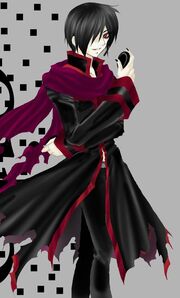 Zeito is a black and red themed derivative of the official Vocaloid Kaito made by BloodyVocaloid. His name is a combination of "Kaito" and "Ze". He is one of the few Shions that does not have a pun included in his name.
Zeito's hair is always covering the right side of his face.He is usually always seen with very pale skin while wearing copious amounts of black eye makeup. He wears a modified version of Kaito's coat. A ripped black coat with red highlights and tattered red scarf.
Zeito is the emotionless guy who everyone adores for some reason. Except for the people zeito cares for.
Biography
Edit
Zeito is the dark and depressive alter ego of Kaito. Because of his negative connotations to Kaito, he is often referred to as the equivalent of what Zatsune Miku is to Hatsune Miku. He can usually be found outside playing with his yo-yo. Due to this, Zeito has often been depicted as a tsundereloid, a Vocaloid that doesn't outwardly appear to care for other Vocaloids, or a Dandereloid, a vocaloid that rarely speaks or socializes with other vocaloids.
On rare occasions he has been seen speaking with Zatsune Miku. As a result, there have been rumors of a relationship between the two.
The only things he has ever shown an interest in are nature, Yo-yos and Zatsune Miku.
Voice configuration
Edit
VOICE CONFIGURATION
HARMONICS
64
NOISE
64
BRIGHTNESS
64
CLEARNESS
64
GENDER FACTOR
54
RESONANCE

R1: F:49 B:64 A:64 R2: F:64 B:30 A:64

R3: F:90 B:90 A:64 R4: F:120 B:90 A:64
Additional info
Edit
Relationships
Edit
Fans speculate that there is a relation between Zeito and Zatsune Miku due to their similar color scheme, and the letter Z present in both their names
Zeito and Taito Shion are depicted as friends and/or brothers due to the misunderstanding that Zeito is a yandere similar to Taito.
Zeito and Kageito Shion are depicted as friends/brothers due to their similar hair and eye color. They also have a fondess for darkness.
Appearances
Edit
Artwork

Search Zeito on deviantArt Pixiv Piapro
Zeito is a example of a "Pitchloid".
Many people have spelled his name "Zaito" like Kaito with a Z, this is, however, incorrect spelling.
Due to a translation error, many eastern users do not depict Zeito with heavy eye makeup or with hair covering his face.
He's said to be fluent in both Japanese and English.
External links
Edit
Ad blocker interference detected!
Wikia is a free-to-use site that makes money from advertising. We have a modified experience for viewers using ad blockers

Wikia is not accessible if you've made further modifications. Remove the custom ad blocker rule(s) and the page will load as expected.